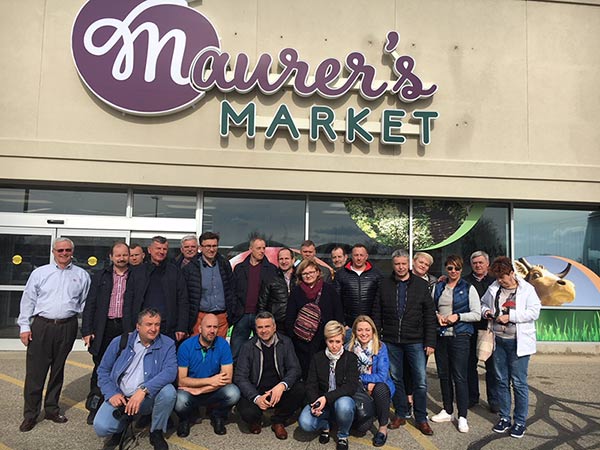 Maurer's Market Receives International Attention and Shares Local Knowledge
Wisconsin Dells, WI April 8, 2019:
The Independent Grocers Alliance (IGA) was founded in 1926 to bring family owned, local grocery stores together under the IGA brand. Nearly a century later, the support of a nationally known brand is still giving IGA grocers the ability to better compete, while at the same time, allowing them to stay true to who they are—hometown store owners in a position to meet the needs of their unique communities. Today, there are 6,000 IGA retail stores in over 30 countries. As IGA continues to grow throughout the US and around the world their success stems from their store owners' innate desire to share what they have learned with others.
On April 2nd, Maurer's Market IGA was the host of an international contingent of IGA store owners hailing from Poland. The tour of the Maurer's Market IGA Wisconsin Dells location was lead by IGA CEO, John Ross and Sr. Vice President Retail & Business Development, Doug Fritsch along with owner, Jeff Maurer and their interpreter.
Owner Jeff Maurer said, "Our guests appreciated the firsthand look at our day-to-day operations, including technology and infrastructure investments. We demonstrated how we merchandise our produce, stock our shelves and operate the store day to day. The store owners asked some really good questions about how we build relationships with our local farmers, deal with labor and health care issues that impact our bottom line. I was really impressed with their genuine interest."
As a sector, the grocery industry makes up $131 billion in annual sales and supports nearly one million jobs nationwide, it is important to the U.S. economy and it's important that independent owners share in their knowledge so that the supermarket industry continues to grow, and creates jobs in communities throughout America and the rest of the world," said IGA CEO, John Ross. "That's why we are hosting this group in the States. What makes independents so cool is that entrepreneurial spirit that comes up from the stores," Ross said. "You can see this idea that you never thought of before and go, that's really clever. Is it working? And if it's working, let's copy and paste it across the chain. Independents are unique in their ability to adapt," he said. "At a large chain store, if you like a special kind of peanut butter, they might not have the authority, the autonomy to bring that in and service your needs like our Independents can."