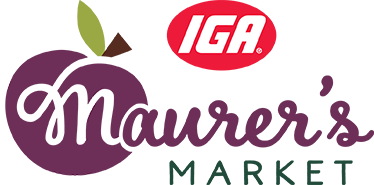 What makes Maurer's Maurer's?
As far back as memory goes, people look at our town as a "tourist destination."  Hard to argue.  Look around and it's pretty clear that people love coming to the Dells. But, we're the kind of store for people who love living in the Dells.  We built Maurer's Market IGA around the things that you need.  Sure, visitors are welcome to the fresh fruit, milk, and meat.  But, that doesn't mean the locals should have to reach around the wacky sunglasses and t-shirts, just to get to the bread and cereal.
We figured the Dells deserved a grocery store they could have all to themselves.  And, that's what we've made in Maurer's.  We think we did a pretty good job, but it's always a work in progress.  If there's something missing, just ask.  Chances are you'll be talking to the person who does the ordering. 
We have no formula.  There's no giant research company out in California telling us what to put on the shelves for you. Some people might find that old fashioned, but we just call it "doing the right thing."
We also think our Wisconsin farms are pretty important.  Not only are they something crucial to our state's economy, but we're the kind of people that believe you should try to live off the land as much as you can.  That's why our produce and meat selection is going to be full of Wisconsin products. 
We believe that you have earned the right to a good value.  Everything we do is to ensure that you are paying a fair price for a really good product.  Those two things are the test of every product we sell.  Some stores buy cheap and make a big profit.  Other stores buy expensive and really overcharge.  We happen to think we are really good at finding the products you can afford. 
These are just some of the thoughts that make Maurer's Market what it is.  Not trying to be the biggest, or the best.  Not hoping to rope in every tourist that walks by.  We're just trying to be a really good grocery store for the good people of Wisconsin Dells.  And we think we've gotten it down pretty well.
If not, be sure to let us know.  We always want to be better today than we were yesterday.  Maurer's Market IGA is YOUR Wisconsin Dells grocer. 
Come visit when you can.